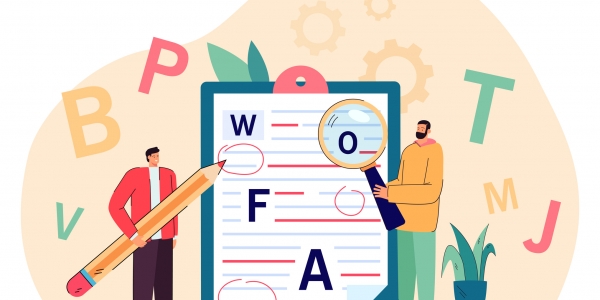 Research questions focus "in depth" on grammar
New findings call into question whether "extensive" grammar instruction helps students' writing, researchers say.
Academics from UCL and the University of York say today's findings, on an approach to teaching grammar, match previous studies"which do not provide strong enough support for in-depth grammar instruction as the best way to improve writing".
They call for a thorough review of the grammatical requirements of the English National Curriculum to ensure that students receive "the writing instruction they deserve".
The results released today are an assessment of Englicious, an online resource for teachers, combining grammar instruction and links to writing.
English had "effectively no impact" on second-grade students' narrative writing but could help students generate sentences, according to the research paper published by academics from the UCL Institute of Education (IOE) and York University, funded by the Nuffield Foundation.
Although research has revealed that the grammatical content of English could be taught in a "more beneficial way", he concluded that the "lack of strong research evidence" supporting grammar requirements in the English National Curriculum was a "concern".
The authors suggest that the curriculum should focus more on what helps children develop their writing skills at different developmental stages, using teaching approaches such as sentence combination, strategy teaching and emphasis. put on the writing process.
research essay
In the trial, 70 Grade 2 teachers and 1,736 students were randomly assigned to receive either the English intervention program (manualized for the trial) or their regular grammar instruction.
The lessons of the teachers in the English differed from those in the "business as usual" control group classes because they tied grammar instruction more closely to students' writing practice – a feature of the English approach.
The results showed that although the children who were assigned to the intervention program had encouraging results when it came to generating sentences, there was no statistically significant improvement in their narrative writing. .
Students' writing was tested by a narrative writing test and a sentence generation test before and after the end of the grammatical intervention.
Their progress was first measured by a narrative writing test (mainly by the English Progress Test (PiE) and the second try through a tailor-made Sentence Generation Test (SGT).
"Unusually strong" emphasis on grammar
Teaching grammar in primary schools became a key part of the English National Curriculum in 2014, increasing the focus on learning grammatical terms.
But the focus on grammar has drawn criticism from some education scholars.
Professor Dominic Wyse of UCL, co-author of today's article, said the move towards grammar in the 2014 curriculum "is not sufficiently based on research evidence on the how children learn to write.
The English National Curriculum requires children aged 6 to 7 to learn grammatical terms such as noun phrase, utterance, command and tense, while older elementary school children need to learn terms such as clause subordinate, the adverb, the modal verb, the active and the passive.
Professor Wyse Told Your: "Tthere is an unusually strong emphasis on grammar and the learning of technical terms in the English National Curriculum compared to other international curricula".
In a written statement, he said the lack of impact of grammatical interventions on students' writing raised questions about the grammatical specifications of the national curriculum.
"Although the teachers praised the English intervention for its hands-on and interactive approach, our findings are consistent with other experimental trials that do not provide strong enough support for in-depth grammar instruction as the best way to improve writing," he said. .
Prof Wyse added: 'Until a thorough review of the English National Curriculum is undertaken, children are unlikely to receive the optimal evidence-based writing instruction they deserve.'
"Positive effect on sentences"
Professor co-investigator Bas Aarts (English language and literature UCL and English lead) said the study found some benefits for the English approach.
He said, "The free resources on the English helped teachers present national curriculum specifications in an engaging way and had a positive effect on children's ability to generate sentences by combining clauses. »
But, he added: "We would have liked, however, to have stronger evidence of the benefits of teaching grammar on children's narrative writing and more needs to be done to help children learn to write."
The authors suggested that further research should explore the "merits of manipulating words, phrases, and sentences closely related to other evidence-based practices for teaching writing, within the framework of grammar and writing lessons.
Grammar "not just about literacy"
Professor Willem Hollmann, professor of linguistics at Lancaster University, said Your conclusions on the effectiveness of English were "disappointing" but "not altogether surprising".
He added that the limited effect of the intervention was also not surprising given the teachers' prior knowledge and training in grammar, and that more CPD was needed.
There may be value in grammar "from an educational perspective as developing a broad and engaged perspective on the world around us", he added.
"In future considerations of the status of grammar in the national curriculum and in the evaluation of interventions such as Englishit would be useful to bear in mind the wider importance of "linguistic awareness".
"Literacy is obviously very important, but studying grammar doesn't have to be just a means to that end."
Study '

raises more questions than it answers"
Debra Myhill, p.professor of education and director of the Center for Writing Research at the University of Exeter, the study said "raises more questions than it answers".
"Statistical results show no evidence that the educational intervention improved children's narrative writing or sentence generation," she said.
Professor Myhill asked why the English pedagogical approach would never have resulted in better narrative writing.
She says: "The educational intervention itself focuses mainly on teaching grammatical concepts, such as nouns or verbs, with a writing exercise that uses these grammatical concepts.
"Essentially, there is no teaching of narrative writing. So a key question might be why learning grammatical concepts and playing with them would improve narrative writing? Why knowing what a verb is or a name would improve your narrative writing?"
"We need to remember the complexity of handwriting and the multidimensional nature of handwriting. An educational intervention might improve children's spelling accuracy, one aspect of handwriting, but may have no overall effect on judging a piece of narrative writing."
Professor Myhill added that looking at these sub-components could be useful to better understand the complex processes of writing and teaching writing.
She also said that no questions were asked about children's understanding of grammar and their grammatical thinking, and that this could be an interesting avenue to pursue in further research.
Responding to the research paper, a spokesperson for the Department for Education said: "We continue to build on the progress we have made in raising literacy levels for all children and have set an ambitious new target to ensure that 90% of children leave primary school in England having achieved the expected standard in reading, writing and mathematics by 2030.
"Good grammar is essential to achieving our goal and that is why we have made it a fundamental part of the national curriculum at all key stages."