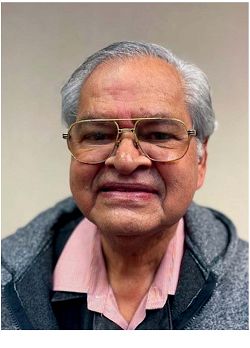 New priest in residence: Fr. Sébastien Chacko
Friday, February 11, 2022
Courtesy picture
+ Expand
apart from Sebastian Chacko,
KEARNS – On January 11, the Diocese of Salt Lake City welcomed Father Sebastian Chacko, who was appointed priest-in-residence at Saint Francis Xavier Parish in Kearns.
Prof. Chacko, who was born in 1948 in India, felt his call to the vocation to the priesthood from an early age, he said.
"When I was 6 years old, my uncle was ordained a priest. My mother always prayed that one of her three sons would be called to the priesthood," the father said. says Chaco.
His prayers have been heard; on December 19, 1976, he was ordained a priest in his hometown.
Prof. Chacko is fluent in the Samoan language in addition to English, Malayalam, Bengali, Hindi, Tamil and Swahili.
"Almost every state in India has its own language and dialects. I studied in different parts of India and learned the local languages," he explained. "As a missionary in any country where I worked, I had to learn their language to be an effective priest and missionary."
In 1990 he was incardinated [formally accepted] in the Diocese of Samoa and in 2005 he was incardinated in the Diocese of Hawaii.
While in Samoa and Hawaii, he was pastor of five different parishes. He retired from Hawaii in 2017 at the age of 70, but later received an invitation to serve the Samoan community in New Zealand.
The original invitation was to serve for two to three years, but when he got there he was told he could only stay for one year.
"It was government policy, that priests could not serve after the age of 70," the father said. Sébastien, as he prefers to be called.
However, his ministry as a missionary priest continued; he was asked to come to Utah to serve the Samoan community here.
"The Samoan Catholic community in Utah has wanted a Samoan priest to help them for over 20 years," the father said. said Sebastian. "Recently, when I was in American Samoa, the Vicar General there, Rev. Fr. Viane Etuale, asked me if I could go to Utah, and then I applied and was accepted.
Prof. Sebastian will assist Fr. Eugenio Yarce, Pastor of St. Francis Xavier Parish, said Fr. Ken Vialpando, Diocesan Vicar for Clergy.
The parish community is made up of Latinos, Anglos and Samoans.
Besides the languages ​​mentioned, Fr. Sebastian also speaks a little Latin and Italian, and he is beginning to learn Spanish – "at least enough to be able to say masses and conduct services in Spanish", he said. -he declares.
In welcoming Fr. Sébastien, Fr. Vialpando joked: "While you are here, you may even have time to learn at least one or two additional languages, and why not, since the seven languages ​​that you are already talking about are just the tip of the iceberg."
So far, Fr. Sebastian has enjoyed his time in Utah, he said. "Here, everything is fine except the cold.
He lived 15 years in Samoa and 22 years in Hawaii, "so here it's a different place," he said. "I had very good impressions based on the welcome from the Samoan Catholics and the Rev. Eugenio Yarce and the parish.
His goals for his new community are "to provide them with spiritual assistance using their language and culture. … By the grace of God, my experiences with loving and respectful Samoan communities will be helpful in starting and sustaining ministry among and for them," he said.