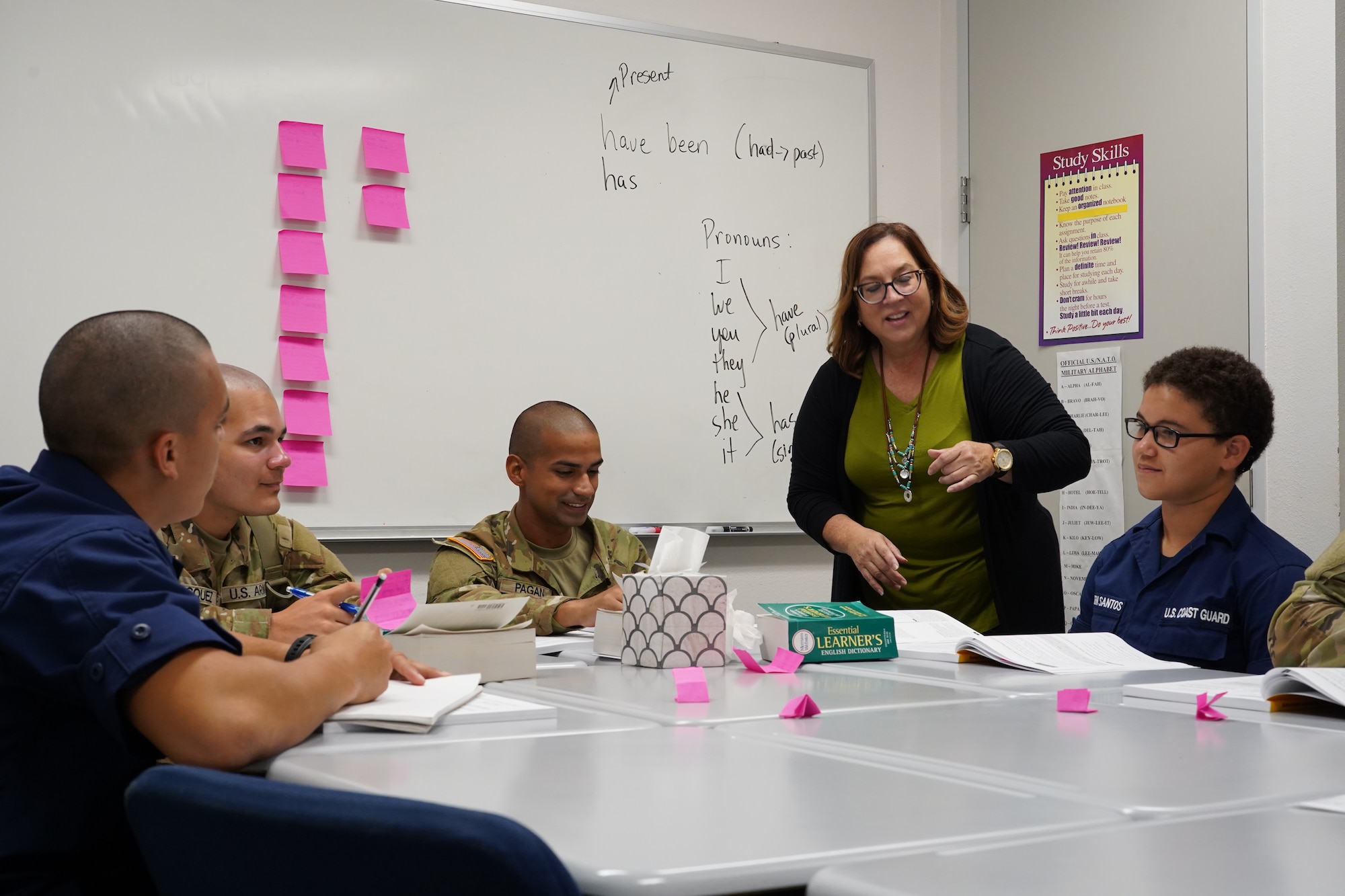 Coast Guard Recruits Join DLIELC's Echo Company for English Training > 37th Training Wing > Article Display
JOINT BASE SAN ANTONIO-LACKLAND, Texas – The first five Coast Guard recruits to train with the Defense Language Institute English Language Center here are honing their English skills over the next 10 to 24 weeks alongside DLIELC's US Army Echo Company.
The recruits, who speak English as a second language, arrived Aug. 30 and are in their third week of training. Once they are proficient enough in English to pass the English Comprehension Level Test, they will be shipped to Boot Camp in Cape May, NJ.
Each year, DLIELC provides English language training to approximately 1,000 Army trainees, known as the Echo Company, whose ECL test score is below the entry point required for direct enlistment.
"DLIELC's mission is the perfect fit for the USCG's new recruiting efforts," said Col. Joseph Schaefer, DLIELC's commanding officer. "With over 60 years of experience training ESL students from the U.S. Army, as well as international military partners, DLIELC has the focused ability to train students in a time and resource efficient manner in a language immersion on our campus."
According to Emily Romero, ELT training specialist, the American language course material is deliberately targeted at English skills that will lead to levels of English fluency and accuracy in a predictable and programmable time frame, unlike other language programs.
"The material is tied to English-level language requirements that will help USCG students succeed in basic education and beyond," she added.
Led by two Coast Guard company commanders – the equivalent of drill sergeants – a typical day for the four male recruits and one female involves attending classes at International Hall, physical fitness, barracks duties, homework and studies. Recruits integrate with army trainees for the duration of their training. Company commanders not only handle the care and feeding of USCG recruits, but also share training duties and rotate the schedule with Echo Company drill sergeants.
"Because there are only two, 24/7 support for USCG recruits would be impossible without this cooperation," Romero said.
Cooperation between the U.S. Army, Air Force, and Coast Guard paved the way for the partnership and the USCG joining the Echo Company. USCG's plan is to send 30 recruits through the program this year, followed by 30 to 50 in subsequent years.
The Air Force is the Department of Defense's executive agent for English language training for approximately 110 partner and allied nations. DLIELC is aligned under the 37th Training Wing and carries out this responsibility for the Air Force. Training enhances cooperative security initiatives by building understanding and trust through communication and language. Additionally, U.S. Army and Coast Guard students sharing classrooms with international students promote relationship building prior to their respective follow-up training. DLIELC is often the first stop in the United States for international military students who will travel to various U.S. Armed Forces locations for training in their specialties.