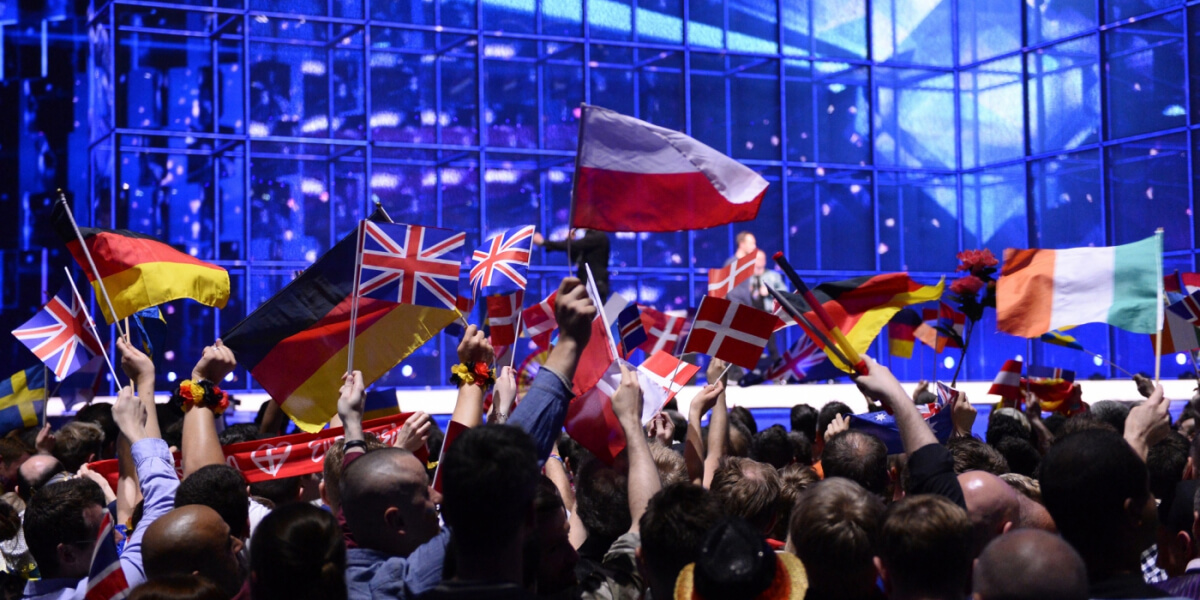 An exploration of language
La Lingua, Kieli, Sprog, Gjuhe. Your mother tongue doesn't matter Language is an integral part of voice communication. It goes without saying that without language, there would be no Eurovision Song Contest. Although the history of the language in the contest can be complicated. In this article, I'll discuss the language rule, the introduction of different languages ​​into the contest, and the opinions I've gathered from ESC fans about which languages ​​they find inherently musical and seem like a slightly clumsy in a melodic setting.
1956 – 1964
At the very beginning, Eurovision had no language rules. The first competition gave us Dutch, French, German and Italian. French was the majority, but the four languages ​​remain the mainstays of the competition to this day. From that first contest until 1965, there remained no rules about which language a nation could use. Although most nations have chosen to use their own national languages ​​with a few exceptions. During this period, many of the contest's base languages ​​made their debut. In the 1965 contest, Sweden submitted a song in English, which presumably led to the EBU instituting the first language restriction at the contest.
beginner languages:
1956: Dutch, French, German, Italian
1957: Danish, English
1958: Swedish
1960: Norwegian, Luxembourgish
1961: Spanish, Serbian, Finnish
1963: Croatian
1964: Portuguese
1965 – 1972
From 1965 to 1973, nations had to sing in one of their official languages. This rule was very restrictive for some countries like France whose only official language is French. Other nations had more flexibility. Switzerland has four official languages: German, French, Italian and Romansh. Yugoslavia, which made its debut in 1961, had, at that time, three or four languages ​​as well depending on your point of view. These included Serbian, Croatian, Macedonian and Slovene (before the dissolution of Yugoslavia, Serbian and Croatian were always combined into Serbo-Croatian).
beginner languages:
1966: Slovenian
1971: Maltese
1972: Irish
1973 – 1976
Then, from 1973 to 1976, the rule was repealed and once again nations were allowed to sing in the language of their choice. Interestingly, during this period, three of the four winners performed in English. "Ding-a-Dong", the winner in 1975 was originally sung in Dutch during their national competition but was translated into English before their Eurovision performance. This brief period of linguistic freedom also introduced the world to ABBA. Only Luxembourg chose to stick with their frequent use of French and gave us the winning song "Tu Te Reconnaîtres" in 1973.
beginner languages:
1973: Hebrew
1974: Greek
1975: Turkish
1977 – 1998
After this brief flirtation with linguistic freedom, the EBU once again restricted the language options of competing nations. From 1977 to 1998, the official language rule returned to the contest. This time around, however, the rule was increasingly unpopular. The world at this time was becoming increasingly intertwined and English was slowly beginning to establish itself as an international language, a title previously reserved for French. The UK and especially Ireland achieved great success during this period and many attributed this to the fact that being able to sing in English gave their songs a wider appeal. Obviously, more people would have a basic understanding of English than many other languages ​​such as Slovak. Although some might argue that their songs were simply better than the competition. During this long period, many languages ​​made their first appearance as returning nations began to experiment with various other official languages ​​and dialects. At the same time, a large number of nations began to compete for the first time, bringing even more new languages ​​into the fold.
beginner languages:
1980: Arabic
1986: Icelandic
1989: Romansh
1991: Neapolitan
1992: Antillean Creole
1993: Bosnian, Corsican
1994: Slovak, Estonian, Hungarian, Romanian, Lithuanian, Polish, Russian
1998: Macedonian
1999 – 2021
From 1999, the EBU bowed to popular opinion and changed the language rule once again, allowing nations to sing in the language of their choice. This change occurred at a time when English was gaining popularity as a common language. For this reason, many nations began to feature their songs in English even though their own national selection required songs sung in their own official language. Some nations debuting during this period came almost exclusively to the contest with English songs. Azerbaijan joined in 2008 and has never featured a song in Azeri, although there have been at least two instances of the language appearing briefly in other nations' songs. Other nations, like France, have rarely strayed from their national language. This period also brought us three examples of nations inventing completely fictional languages ​​for their entries.
beginner languages:
1999: Samogitian
2004: Catalan, Latvian, Ukrainian, Voro
2006: Albanian, Tahitian
2005: Montenegrin
2007: Armenian, Bulgarian, Czech
2009: Romani
2011: Swahili
2012: Georgian, Udmurt
2017: Belarusian
2019: Sami
2020: Amharic
2021: Sranan Tongo
English in the lead
Despite the love-hate relationship that many nations may have with the English language, it remains the leader among the contest's winning songs, making up 47% of the circle of winners. French comes second with 20%, with Dutch, Hebrew and Italian completing the top five with only 4% each. Personally, I think that even though English represents 47% of winners, that only means that 53% of winners have songs in languages ​​other than English. Not a bad stat for non-English speakers.
All this research made me curious about people's opinions on different languages. I recently did a poll of Eurovision fans and asked them which languages ​​they find inherently musical and which languages ​​they think can be a little clunky. As I walked in, I thought I had an idea of ​​what people were going to say, but I was very wrong. At the top of the list of languages ​​people liked to hear were Finnish and Albanian. The Italian has received more positive feedback than another but I attribute that to a small bias with Maneskin's massive success. Still, there was a general consensus that Romance languages ​​tended to be much more melodic than Germanic languages. There seemed to be a lot of love for Eastern European languages, including the Baltics and the Balkans. The Scandinavian languages ​​were divided, which surprised me. Swedish and Norwegian end up on both sides of the ballot while Icelandic seems to be very popular in a musical setting. Danish was at the top of the list of languages ​​that my sample of fans considered to be very strange and not very melodic.
Among the responses I received, there were many who agreed with me that if the song is good, it doesn't matter what language it's sung in. Personally, I think songs that are translated from their original language into English for performance purposes are always the most annoying to the ears. Often the translated version does not match the melody as well as the original. Every year I read comments from people who say that the original version of a particular song was much better and in most cases they are absolutely correct.
In recent years the competition has taken on a very English tone as many songs are sung in English rather than other languages ​​like Latvian. In fact, since the last rule change, there have only been three winners who have not sung in English, 2007 "Molitva", 2017 "Amar Pelos Dois", 2021 "Zitti e buoni". Although it's worth noting that last year the top three were all non-English songs. Perhaps in the years to come, nations will begin to rediscover how beautiful their native languages ​​can be. In my opinion, one of the things that has always made the competition great has been the coming together of so many different nations celebrating their differences with pride.